Bed From Pallets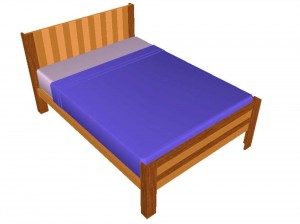 A friend of mine told me she is making a bed frame out of pallets! Making things from pallets is such a great idea. I think the next time I need a workbench I'm going to look at pallets.
Seems like the thing to do is draw it up in Sketchup then use a list of board lengths to cut the wood and then screw it all together.
So here's an inventory of the challenge.
Mattress 60×80″
2 Large Pallets 130×44,5″

3 boards 3.75 x 1.5 x 130″
12 boards 3.5 (to 3,75) x 1 x 44.5″

4 Medium Pallets 74×42″ (2 are in rough shape)

3 boards 3.75 x 1.5 x 74″
8 boards 3,5 (to 3,75) x .75 x 42″

Tools: drills, Miter saw, Jigsaw, Sander
Okay, it seems there are six really long pieces and they're the only ones that are as long as the bed. So I can use two of them to form side longerons and the remaining four for the head and foot of bed. The other pallets have another long board which is the only one long enough to reach across the bed. We've got 12 of those. At 5.9″ pitch all the boards come out nice.
I added some legs and a simple removable head board and foot. So if she likes this simple design I guess I make up the list of lengths so the boards can be cut.
Related
Is your pallet safe for use?