DIY Buttons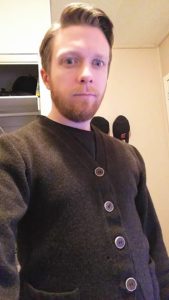 I brought four blazers to the dry cleaner at Lincoln Fields last summer. All four of them had lost their buttons. I asked how much to put buttons and he said $4 per button. That would have been $128! Needless to say I didn't get it done and I didn't go back there again.
I've been thinking about making some buttons for a while.
I met up with Jon the other night and he was sporting some buttons he made.
They were pretty nice so I've prepped some wood which is drying.
In the mean time I made a set of buttons for a blazer out of CDs. I looked at a blazer that still has the buttons and they're perfectly aligned. I thought that would be tricky and time consuming so I made a template that holds the buttons in place using magnets. It worked but I inadvertently sewed them on upside down! I'll fix that later!