Hack613, Ottawa's Maker Meetup
When:
April 26, 2017 @ 6:00 pm – 8:00 pm
2017-04-26T18:00:00-04:00
2017-04-26T20:00:00-04:00
Where:
Barley Mow in Westborough
399 Richmond Rd
Ottawa, ON K2A 0E9
Canada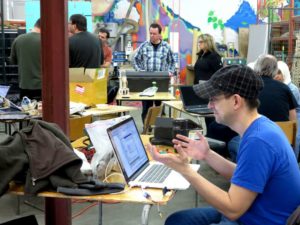 Come out to our informal Arduino meetup! For pictures and to get a sense of what we're about, check out the details page.
Please RSVP to Darcy@inventorArtist.com.  Subscribe for schedule and location change notices.
Wednesdays!
Downstairs
Barley Mow in Westborough
399 Richmond Rd, Ottawa, Ottawa, ON
This is informal and fun!
They have a very nice room in the basement is available for us between 5:30 and 9:30. (I'm sure we can stay longer).  The room also features a large screen TV with an HDMI input.  This is a basement facility so unfortunately it is not entirely accessible but I think it will make a great place to meet until we find a more permanent home.  Food and drink is available but for the first week we will be trying out going upstairs to the bar for service.  They offered us a server, but until we have a better idea of number of people I think we can survive a few trips upstairs.  When we are there we can talk about how it works for everyone and see if we want to stay for future meetups.
We are trying to line up a bunch of mini 30 minute presentations for each meetup where one of us can talk to the group about their project or offer tips / suggestions / tutorials such as Surface Mount Soldering, Eagle, Fushion 360, etc. and depending on the number of people that show up I might start this off with another Fusion 360 tutorial around 7:00