Flexographic Portraits
Doug and I have been working on this. We tried some lithographic experiments (and a few other things).
So far this relief type printing is the only thing that has come forward.
This plate is about 4 inches by 3 inches.
The blue is oil based ink and the magenta is acrylic paint.
Up next to try several plates for one image so different colors can be applied.
Issues:
Is there a good retardant for acrylic paint to give more work time?
The brayer slips a lot when I'm rolling it to load it up. Am I missing something or is it a cheap brayer?
Do I use different ink to do CMYK or do I dilute this somehow to make it translucent?
How to align the different plates when printing multiple colors?
When framing should there be a layer of glass in front?
Thoughts?
Here are a couple in the pipe.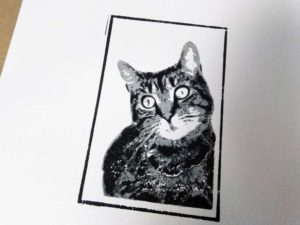 Here's a puddy cat.
He's from Vancouver. I carved out three lino plates for three colors, black and two shades of grey. This is a little more work than it looks like since you need to process the image in a way that it maximized with just three colors.
I made sure there was no overlap between the plates…
I aligned the plates by taping a fixture to the table for the plates and also taping the paper.
You can see the idea in the process pictures further down.
Here are some pictures form the process.