Hello Kitty Scrabble Box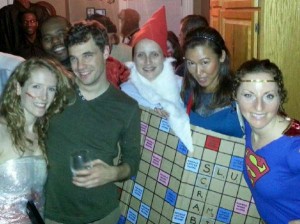 Cindy was a Scrabble Board for Halloween. That's a pretty cool costume. She wanted wooden tiles to actually play it (fanatic alert). When she was asking me to help make tiles I remember confirming ("Are you sure you want like 'x' amount of 5cm tiles?").
I ran them fairly quickly on my mill so we needed a social for finishing them with sandpaper. Bringing the tiles to the pub was a great way to get work done. I think a pub can be more than a think-tank. Don't you?
Okay cool. So her birthday comes forward so what to make? I made some trays for the tiles and a box to keep it all together. I engraved Hello Kitty on the box and made a Hello Kitty Card.
It was a fun-simple project to make. I need an excuse to make another scrabble game. Perhaps with engraved letters or something crazy like that.