Line Follower Robot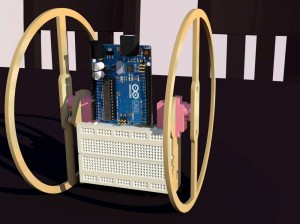 There's a bit of buzz over at Ottawa Robotics Enthusiasts about having a contest! There are two events. Line follower and maze solver. The dates being looked at are March 9th, 14th or 15th.
I am starting to think about an entry in the line follower. I know Rollybot isn't the most suitable platform but I'm sure I can learn something if I use it as a starting point. I think the trick will be coming up with a sensor package to get the data needed to solve the line.
I put one together to fool around with. I want to get this thing to drive around the room avoiding collisions first. I figure that's an easier problem to work on. I added the Sharp IR sensor. I've not got it working yet, it always things there's an object in front. I'll fiddle more in the morning.
There is this slight problem with the Rollybot. It's been oversimplified and uses hacked servos as drives. They don't have symmetrical characteristics and there is no feedback.
The other thing is that the guys over at ORE tell me there is an interest in having the sensors far away from the drive axle. There is a simulator that verifies this to some extent. If this is the case I think it will be a matter of putting the senors on a boom.
Also the rollybot has a lot of sway. Perhaps if the sensor boom contacts the ground that will help.