Printrbot 3D Printer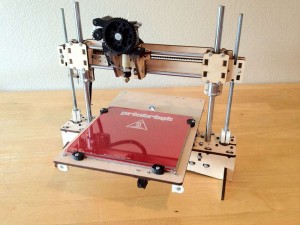 I got a Printrbot PLUS today. I think this will help with my 3D printing project to make plastic parts for my model airplane project (among other things). It's also smaller than my BFB so I can bring it to various meetups. Not only that when I'm running long jobs on my other 3D printer I can still run jobs on the second machine.
This has an 8x8x8″ build area and an 8″ heated build area. Getting the kit saved me a hundred bucks plus I'm betting logistics will be cheaper.
Tool-chain: For this machine I bring the STL into Repetier Host which runs the machine directly. It's really nice software.
Spool system:
Here are a few pictures of unboxing and assembly.
I made a make-shift spool for it.