Swirly Draw V2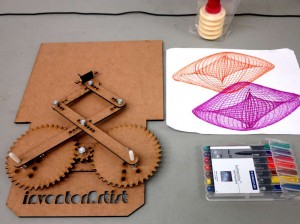 Swirly Draw V2 is like the original Swirly-Draw except it has magnetic paper holder (like Art-O-Matic and Isocel-Ease). The idea of Swirly Draw was to be small and simple  but I found that a lot of people don't have the dexterity to manage it.
The new version also has a triple pen holder. It's really fun since only one pen usually writes at a time and sometimes it alternates back and forth between pens. Also after making one swirly you can just switch pen position and start again. After three swirleys you just turn the paper around and go again, so you get six swirleys on one sheet.
Here are some videos of prior machines to give you the idea. I've not made a video of the new machine yet (hang in there)!
Bill of Materials
Home Depot
1x sheet of 1/8th" hardboard (24×24″), $1.60 (makes two machines)
Ottawa Fastener
5x 1/4-20 bolts from Ottawa Fastener (length to follow)
12x 1/4-20 nuts
3x 1/4″ washers (outside diameter to follow)
4x 8-32 1/2″ bolts
8x 8-32 nuts
Other
4x Rubber bands
8x rare earth magnets magnets
Paper
Colored pens!
The arms are double nutted together with the 8-32 nuts and bolts. 1/4-20 Cranks are bolted to main gears. Gear shafts are nutted to the platform, gears in position then double nut over them. Add more nuts as spacers for cranks and add cranks.
Related
Downloads swirly-thing015_21p2x11p4
Gear Generator Program by Matthias Wendel of Ottawa.
ArtEngine Laser
Swirly Draw at the Ottawa Makerfaire with the Ottawa Public Library.