Voice of Bullshit
Raymond Loomer has created his version of Voice of Fire entitled Voice of Bullshit!
He is making a statement that the National Art Gallery is am important resources. It should be accessible to everyone and should be free.
Who am I to argue with that? How do you feel about that?
Voice of Fire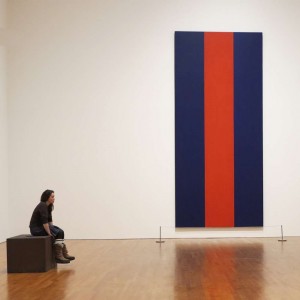 I personally love this painting so here are a few quick facts on Barnett Newman's Voice of Fire.
Newman does not consider it to be three stripes. He considers the center strip to be a "zip" that creates structure in his work.
The painting was purchased by the National Gallery for 1.8 million dollars in 1990. At 540 cm × 240 cm (213 in × 94 in) that comes out to a bargain at $13.89 per square cm ($89.90 a square inch).
Voice of Fire is estimated to be worth 40 million.
If you relax and gaze at the right edge of the zip you may experience heat emerging from the edge. This is due to your eye's natural inability to stay still.
If your eyes switch from one edge of the zip to the other (a natural saccade), you will experience an extreme color change.
The work was commissioned for Expo 67. It was installed in a dome designed by inventor, architect Buckminister Fuller.
You can see it in person at the National Gallery of Canada for free on Thursday evenings from 5-7pm.