Chips the Chubby Squirrel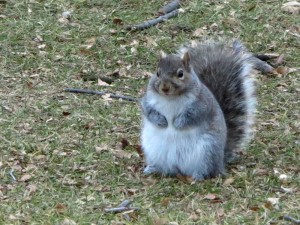 I was out with my drone friends for aerial photography near Island Park of Ottawa where I live.
There was a gang of chubby Squirrels who were very curious about us. That's how I met Chips the chubby squirrel. With late onset of winter they have had a successful summer so quite a few of them were fattened up for winter more than usual.
The picture I took at the right has been really popular. It's been tweeted without credit and used on many web sites with improper or without credit. Hmmm, that's an interesting phenomena. Once one person uses it without credit then the next person just shares it without thinking. What to do?
He made Buzzfeed on January 6.
He made I Fucking Love Science January 8. It had the wrong photo credit for a while and eventually got corrected. But they didn't give me a link like the rest of the Squirrels in the post. Sheesh.
He made a guest appearance on @midnight January 14.
Below you can see some more pictures of him and his friends.
And of course some drone videos. In the second video at the end you can actually see my drone zipping along beside the bridge heading out on a mission. I've not published the video from my drone yet as I've been too busy looking at squirrel pictures. The third video down is from my drone on another day though.
As you can see by these videos, Ottawa is a very beautiful place.
And chubby.
Related
Ottawa has chubby squirrels this year.