Custom Vinyl Clocks Ottawa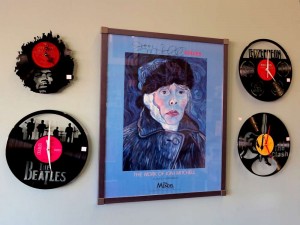 These LP records were up for disposal so they're receiving a new life as clocks (store).
The project has been interesting. I come across items that are nostalgic for myself but I also discover music and history when I make clocks for others. I love that each clock has a story since the records are often old. I feel like an urban archaeologist.
The cutting process is described below but can also be seen on other projects (business cards out of LP records, coasters from records, cutting CD/DVDs).
There are lots of leftover bits of vinyl. I'm making pendants and business cards from them. I also make a lot of other parts from records such as templates for valentine and Christmas cards.
Hockey
Vinyl Clock Portraits
For this I need a few pictures to work from. This takes a bit more time too.
Vinyl and CD Clock Hands
Plain vinyl clock hands are super cool but work better on the lighter colored labels. So I add some CD or DVD material as inlay.
Engraving Vinyl and Micropoetry
I'm able to engrave text onto the label, the groves and the smooth part of a record. This opens a few doors for rationalization, customization and other content.
On light colored labels, label engraving comes out really nice since it exposes the black record.
Cutting Through the Record Labels
This has come up a couple of times. There's easy stuff like the Marilyn Monroe clock. It takes a few minutes to clean up the paper since it doesn't cut exactly the same as the vinyl.
A harder example is this Detroit Red Wings Record Clock. It took numerous tries before cutting all the fine detail without breaking the record. It took over an hour to clean up the label. Also a backing had to be added so the clock movement doesn't interfere with the design. This is the most difficult and time consuming clock I've made to date.
But here's another angle. Make a hub from another record. In this example we added a layer of colored paper underneath the hub. The cool thing about this angle is your content can cover the entire record. In the Beatles example you see the label through the hub.
Matching Record Theme to Cutout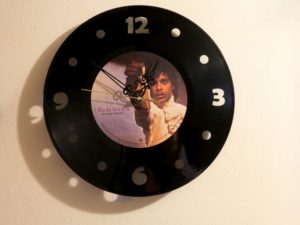 I'm not as thrilled about this unless the records were headed to land fill. I think it's fun to cut rock and roll albums onto classical records or cut one band into a record of someone who influenced it. Or from the same time period but contrasting music. There's so much more than just matching your shoes to your purse in life.
Here's a job I did to cut out some Beatles records. The records were very high wear so that's cool.
Interestingly, when I was choosing which side as the front, in one case I chose a side with a 3″ scratch. I knew that scratch told a story for the record owner so I put it in front.
 How is Music Recorded?
Clock Mechanisms
How to Cut a Record
One method of cutting a record is using a heated knife (available at any craft store). I'm not sure how safe this is since if you overhead vinyl you get poisonous gasses (polyvinyl chloride releases carcinogens and acid when heated). I'm not sure if a heated knife is hot enough for that.
Another method is to use ordinary cutting tools and a rotary cutter such as a dremel mototool. I think if it's done carefully this can give good results.
The method I'm using is a CNC rotary cutter.
For the design I use Inkscape to trace a path (Path, TraceBitmap, OK). I then cleaned up the trace by simplifying and deleting stuff I didn't like. I saved the Inkscape file normally and then imported it in Blender. Blender let me export it as a Collada DAE (had to use 3ds for rooster, A for All). Then in Sketchup 2014 I imported it as a DAE. I then saved it as a Sketchup 8 since that's the one I'm used to. After cleanup in Sketchup to make sure the endmill can pass everywhere, I rendered g-code using SketchUCam and then ran that on the CNC machine.
In this case I used a four flute, 1/16? endmill. I ran it at 30 inches per minute cutting speed. I didn't bring out the techometer to measure the spindle speed but it was pretty low. I bet it was 3500 or 4000 rpm. If I make another of these I'll check the RPM.
I also tried CNC machine with a two-flute-1/16″ endmill (cutter) at 8670 rpm and 30 inches per minute cutting speed.
I also have a fixture which I made specifically for cutting records. So the record is clamped from the center and edges.
Related
Ottawa Record Stores: The Record Center, The Turning Point (Cooper), Legend Records, Vertigo Records (Rideau),
How to clean a record:
Shape bender plugin.
You can buy them with shipping. If you don't see the clock you want in the list let me know.
Who buys vinyl records?
Proof of concept published on: Dec 23, 2013 @ 14:48