Dream Walk
An interactive snowflake installation responds to movement and gesture with color and light.
These suspended snowflakes use sensors and a microcontroller to analyse your motion in real time to render animated pixels of light.
Event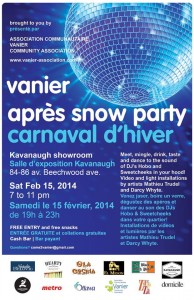 Vanier Snow Party, February 15, 7pm at 84-88 Beechwood Avenue. This neighborhood is one of my old haunts.
Walk up to a station to make your own snowflakes from paper to take with you. Ever hear of a throwie? It's a little light. Make a snowflake with a lanyard, add the throwie and presto! A Snowie!
Artist
I'm a multidisciplinary artist with a background in software and physics. I explore interactive and emersive art and systems highlighting features of our own social network and being.
Credits: Maryam AmiriNezhad is a computer scientist. Shirley Lee, snow flake builder. Andrew B snow flake installer. Max from FrozenElectronics. Eric Field, wiring technician. Sarah Simpkin is a librarian and advocate of the Maker Movement.
Snowflake Party
Fabrication
Here are shots from the very un-glamorous electronics fabrication.
A few shots from the snow flake production.
Related
Instructables snowflakes.
This project uses an Arduino microcontroller.
The light system is Red, Green and Blue LEDs. It uses "additive color mixing". This project uses type 2811 LED controllers.
Code
1

2

3

4

5

6

7

8

9

10

11

12

13

14

15

16

17

18

19

20

21

22

23

24

25

26

27

28

29

30

31

32

33

34

35

36

37

38

39

40

41

42

43

44

45

46

47

48

49

50

51

52

53

54

55

56

57

58

59

60

61

62

63

64

65

66

67

68

69

70

71

72

73

74

75

76

77

78

79

80

81

82

83

84

85

86

87

88

89

90

91

92

93

94

95

96

97

98

99

100

101

102

103

104

105

106

107

108

109

110

111

112

113

114

115

116

117

118

119

120

121

122

123

124

125

126

127

128

129

130

131

132

133

134

135

136

137

138

139

140

141

142

143

144

145

146

147

148

149

150

151

152

153

154

155

156

157

158

159

160

161

162

163

164

165

166

167

168

169

170

171

172

173

174

175

176

177

178

179

180

181

182

183

184

185

186

187

188

189

190

191

192

193

194

195

196

197

198

199

200

201

202

203

204

205

206

207

208

209

210

211

212

213

214

215

216

217

218

219

220

221

222

223

224

225

226

227

228

229

230

231

232

233

234

235

236

237

238

239

240

241

242

243

244

245

246

247

248

249

250

251

252

253

254

255

256

257

258

259

260

261

262

263

264

265

266

267

268

269

270

271

272

273

274

275

276

277

278

279

280

281

282

283

284

285

286

287

288

289

290

291

292

293

294

295

296

297

298

299

300

301

302

303

304

305

306

307

308

309

310

311

312

313

314

315

316

317

318

319

320

321

322

323

324

325

326

327

328

329

330

331

332

333

334

335

336

337

338

339

340

341

342

343

344

345

346

347

348

349

350

351

352

353

354

355

356

357

358

359

360

361

362

363

364

365

366

367

368

369

370

371

372

373

374

375

376

377

378

379

380

381

382

383

384

385

386

387

388

389

390

391

392

393

394

395

396

397

398

399

400

401

402

403

404

405

406

407

408

409

410

411

412

413

414

415

416

417

418

419

420

421

422

423

424

425

426

427

428

429

430

431

432

433

434

435

436

437

438

439

440

441

442

443

444

445

446

447

448

449

450

451

452

453

454

455

456

457

458

459

460

461

462

463

464

465

466

467

468

469

470

471

472

473

474

475

476

477

478

479

480

481

482

483

484

485

486

487

488

489

490

491

492

493

494

495

496

497

498

499

500

501

502

503

504

505

506

507

508

509

510

511

512

513

514

515

516

517

518

519

520

521

522

523

524

525

526

527

528

529

530

531

532

533

534

535

536

537

538

539

540

541

542

543

544

545

546

547

548

549

550

551

552

553

554

555

556

557

558

559

560

561

562

563

564

565

566

567

568

569

570

571

572

573

574

575

576

577

578

579

580

581

582

583

584

/*

Dream Walk

Darcy@inventorArtist.com

Quick and dirty code for one-time run.

WS2811 LED Strip

================

// Parameter 1 = number of pixels in strip

// Parameter 2 = Arduino pin number (most are valid)

// Parameter 3 = pixel type flags, add together as needed:

// NEO_KHZ800 800 KHz bitstream (most NeoPixel products w/WS2812 LEDs)

// NEO_KHZ400 400 KHz (classic 'v1' (not v2) FLORA pixels, WS2811 drivers)

// NEO_GRB Pixels are wired for GRB bitstream (most NeoPixel products)

// NEO_RGB Pixels are wired for RGB bitstream (v1 FLORA pixels, not v2)

// IMPORTANT: To reduce NeoPixel burnout risk, add 1000 uF capacitor across

// pixel power leads, add 300 - 500 Ohm resistor on first pixel's data input

// and minimize distance between Arduino and first pixel. Avoid connecting

// on a live circuit...if you must, connect GND first.

IR Receiver

SR02 Range Finder

16752735

16720095

16736415

16769055

16748655

16716015

16732335

16764975

16756815

16724175

16740495

16773135

16754775

16722135

16738455

16771095

16750695

16718055

16734375

16767015

16746615

16713975

16730295

16762935

repeat 4294967295

*/

#include <Adafruit_NeoPixel.h> //Light Strip

#include <IRremote.h> // Infra Red Receiver

#define stripPIN 6

#include <Wire.h> // Range Finder

#define Debug

// Discrete Hartley transform

//#define LOG_OUT 1 // use the log output function

//#define FHT_N 256 // set to 256 point fht

//#include <FHT.h>

int motionN = 20;

int motion[21];

unsigned long motionLast;

unsigned int motionDelay= 400;

int motionIndex=0;

unsigned long calcLast;

unsigned int calcDelay = 1200;

unsigned int statAverage;

unsigned int statTotal;

unsigned int statSlope;

unsigned int statMax;

unsigned int statMin;

//person

unsigned int personFlag;

unsigned int person;

unsigned int lastHuman;

// initialize light strip

Adafruit_NeoPixel strip = Adafruit_NeoPixel(40, stripPIN, NEO_RGB + NEO_KHZ800);

//Adafruit_NeoPixel strip = Adafruit_NeoPixel(60, stripPIN, NEO_GRB + NEO_KHZ800);

// range finder

#define SDM_IO_TIMEOUT 10000

int TrigPin = 13;

int EchoPin = 12;

unsigned long ultrasoundDuration;

int timeout;

unsigned long tStartPing = 0;

int d = 0; //range finder distance

int dLast = 0;

int dDir = 1;

//inbound ir

IRrecv irrecv(8);

decode_results results;

//frames

unsigned long lastFrame;

unsigned int FrameDelay = 900;

unsigned int frame = 0;

unsigned int frameN = 39;

//ultrasonic range

unsigned int rangeLow = 3;

unsigned int rangeHi = 200;

unsigned int rangeError = 999;

//strip size

unsigned int stripN = 38;

float stripR[39];

float stripG[39];

float stripB[39];

//heart

unsigned int heart = 0;

unsigned int heartDir = 1;

unsigned int metabolism=500;

//sprite

float sprite = 0;

float spriteDir = .1;

//random event

unsigned long randomLast;

unsigned int randomDelay = 10000;

unsigned int effectRandom=0;

void setup() {

//debug

Serial.begin(9600); //115200

// Discrete Hartley transform

//TIMSK0 = 0; // turn off timer0 for lower jitter

//ADCSRA = 0xe5; // set the adc to free running mode

//ADMUX = 0x40; // use adc0

//DIDR0 = 0x01; // turn off the digital input for adc0

//light strip

strip.begin();

strip.show(); // Initialize all pixels to 'off'

for (int i = 0;i<=stripN;i++) {

stripR[i] = 0;

stripG[i] = 0;

stripB[i] = 0;

}

rainbow(1);

// for (int i = 0;i<=stripN;i++){

// strip.setPixelColor(i,strip.Color(30 ,0,100));

// strip.setPixelColor(max(i-1, 0), strip.Color(0,0,0));

// strip.show();

// delay(200);

// }

//theaterChaseRainbow(1);

for (int i = 0;i<=stripN;i++) {

strip.setPixelColor(i,strip.Color(0,0,0));

}strip.show();

//range finder

Wire.begin(); //setup i2c

//pinMode(TrigPin, OUTPUT); //pin is output

//pinMode(EchoPin, INPUT); // pin is now input

// Infrarad Reciept

pinMode(7, INPUT);

digitalWrite(7, HIGH);

irrecv.enableIRIn(); // Start receiver

//randomSeed(12);

}

void loop() {

// range finder

if (millis() >= motionLast + motionDelay) {

motionLast = millis();

d = takereading(); //d = read_sdm_io_range();

//Serial.print(d); Serial.println("");

dLast = d;

motion[motionIndex] = d;

if (d>dLast){

dDir = 1;

}else{

dDir = -1;

}

//fht_input[motionIndex] = d; // Discrete Hartley transform

motionIndex++;if (motionIndex >=motionN) {motionIndex = 0;}

//Serial.print("m=");Serial.println(motionIndex);

// last human

if (d < rangeHi) {

lastHuman = millis();

}

//for (int i=0;i<=motionN;i++){Serial.print(motion[i]);Serial.print(" ");} Serial.println("");

}

// Discrete Hartley transform

if (millis() >= calcLast + calcDelay) {

calcLast = millis();

statTotal=0;

statMax=0;

statMin=99999;

for (int i=0;i<=motionN;i++){

statTotal = statTotal + motion[i];

statMax = max(motion[i], statMax);

statMin = min(motion[i], statMin);

}

statAverage = statTotal/(motionN-1);

Serial.println("");

Serial.print("total "); Serial.print(statTotal);

Serial.print(" average "); Serial.print(statAverage);

Serial.print(" max "); Serial.print(statMax);

Serial.print(" min "); Serial.println(statMin);

for (int i=0;i<=motionN;i++){Serial.print(motion[i]);Serial.print(" ");} Serial.println("");

}

// Discrete Hartley transform

//while(1) { // reduces jitter

// cli(); // UDRE interrupt slows this way down on arduino1.0

// for (int i = 0 ; i < FHT_N ; i++) { // save 256 samples

// while(!(ADCSRA & 0x10)); // wait for adc to be ready

// ADCSRA = 0xf5; // restart adc

// byte m = ADCL; // fetch adc data

// byte j = ADCH;

// int k = (j << 8) | m; // form into an int

// k -= 0x0200; // form into a signed int

// k <<= 6; // form into a 16b signed int

// fht_input[i] = k; // put real data into bins

// }

// fht_window(); // window the data for better frequency response

// fht_reorder(); // reorder the data before doing the fht

// fht_run(); // process the data in the fht

// fht_mag_log(); // take the output of the fht

// sei();

// Serial.write(255); // send a start byte

// Serial.write(fht_log_out, FHT_N/2); // send out the data

// }

//random events

if (millis() >= randomLast + randomDelay) {

randomLast = millis();

randomDelay = random(20000);

effectRandom++; if (effectRandom>=6){effectRandom=0;}

Serial.print("random/////////////////////// " );Serial.println(effectRandom);

switch (effectRandom) {

case 0: colorWipe(strip.Color(255, 255, 0), 0); break; //

case 1: colorWipe(strip.Color(0, 255, 255), 0); break; //

case 2: colorWipe(strip.Color(255, 0, 255), 0); break; //

case 3: rainbow(0);break;

case 4: rainbowCycle(0);rainbowCycle(0);rainbowCycle(0);break;

case 5: theaterChaseRainbow(5);break;

//default: {renderNumber(0, 255,255,255, 255,255,255); break;}

}

}

// Look for IR data

unsigned long remoteData;

if (irrecv.decode(&results)) {

remoteData = results.value;

Serial.print("IR in " );Serial.println(remoteData);

irrecv.resume();

//we got data, cook a random function

int effect = random(5);

switch (effect) {

case 0: theaterChaseRainbow(5); break; //R

case 1: colorWipe(strip.Color(0, 255, 0), 10); break; //G

case 2: colorWipe(strip.Color(0, 0, 255), 10); break; //B

case 3: rainbow(0);break;

case 4: rainbowCycle(0);break;

case 5: theaterChaseRainbow(5);break;

//default: {renderNumber(0, 255,255,255, 255,255,255); break;}

}

}

// switch (remoteData) {

// case 16748655: colorWipe(strip.Color(255, 0, 0), 10); break; //R

// case 16716015: colorWipe(strip.Color(0, 255, 0), 10); break; //G

// case 16732335: colorWipe(strip.Color(0, 0, 255), 10); break; //B

//

// //default: {renderNumber(0, 255,255,255, 255,255,255); break;}

// }

// advance frames

if (millis() >= lastFrame + FrameDelay ) {//advance frame

lastFrame = millis(); frame++; //probably not needed by this vignette

if (frame > frameN) {

frame = 0;

}

//Serial.print("frame ");Serial.println(frame);

//react to range finder

for (int i = 0;i<=stripN;i++){strip.setPixelColor(i,strip.Color(0,0,0));} //clear strip

Serial.print(" statAverage ");Serial.print(statAverage);

Serial.print(" rangeLow ");Serial.print(rangeLow);

Serial.print(" rangeHi ");Serial.print(rangeHi);

Serial.print(" stripN ");Serial.print(stripN);

person = min(map(d, rangeLow, rangeHi, 0, stripN), stripN);

//person = map(statAverage, 0, rangeHi, 0, stripN);

Serial.print("d/person ");Serial.print(d);Serial.print(" ");Serial.println(person);

//Boost the pixel that the person maps to

stripR[person] = stripR[person] + 10; if (stripR[person] >=255) {stripR[person] = 255;}

stripG[person] = stripG[person] + 0 ; if (stripG[person] >=255) {stripG[person] = 255;}

stripB[person] = stripB[person] + 10; if (stripB[person] >=255) {stripB[person] = 255;}

for (int j=1;j<=5;j++){

int brightness; brightness = map(j, 0, 5, 20, 0);

stripR[person+j] = stripR[person+j] + brightness; if (stripR[person+j] >=255) {stripR[person+j] = 0;}

stripG[person+j] = stripG[person+j] + brightness; if (stripG[person+j] >=255) {stripG[person+j] = 0;}

stripB[person+j] = stripB[person+j] + brightness; if (stripB[person+j] >=255) {stripB[person+j] = 0;}

stripR[person-j] = stripR[person-j] + brightness; if (stripR[person-j] >=255) {stripR[person-j] = 0;}

stripG[person-j] = stripG[person-j] + brightness; if (stripG[person-j] >=255) {stripG[person-j] = 0;}

stripB[person-j] = stripB[person-j] + brightness; if (stripB[person-j] >=255) {stripB[person-j] = 0;}

}

//fade

//stripR[person] = stripR[person] - 5; if (stripR[person] <=0) {stripR[person] = 0;}

//stripG[person]=stripG[person] -5; if (stripG[person] <=0) {stripG[person] = 0;}

//stripB[person]=stripG[person] - 5; if (stripG[person] <=0) {stripG[person] = 0;}

//strip.setPixelColor(person,strip.Color(random(255),random(255),random(255)));

//if (d >= hi) {

// heart=heart + heartDir;

// if(heart>=stripN || heart<=0) {heartDir = -1 * heartDir;}

// for (int i = 0;i<=stripN;i++){strip.setPixelColor(i,strip.Color(0,0,0));}

// strip.setPixelColor(heart,strip.Color(0,0,random(8)));

// //strip.show();

//}

}

//fade

for (int i = 0;i<=stripN;i++){

stripR[i] = stripR[i] - .05; if (stripR[i] <=0) {stripR[i] = 0;}

stripG[i] = stripG[i] - .05; if (stripG[i] <=0) {stripG[i] = 0;}

stripB[i] = stripB[i] - .05; if (stripB[i] <=0) {stripB[i] = 0;}

//strip.setPixelColor(i,strip.Color(stripR[i] ,stripG[i],stripB[i]));

}

float val = (exp(sin(millis()/(float)metabolism*PI)) - 0.36787944)*13;

//setColor (6,1023, val);

stripR[0] = val; stripG[0]= 0; stripB[0] =0;

for (int i = 0;i<=stripN;i++){

strip.setPixelColor(i,strip.Color(stripR[i] ,stripG[i],stripB[i]));

}

strip.show();

//sprite

// sprite = sprite + spriteDir;

// //Serial.print(sprite);

// //Serial.println("");

// if (sprite> stripN) { sprite = 0;}

// if (sprite<0) {sprite = stripN;}

// strip.setPixelColor(sprite,strip.Color(200,0,200));

// for (int j=1;j<=10;j++){

// int brightness;

// brightness = map(j, 1, 10, 10, 1);

// strip.setPixelColor(min(sprite+j, stripN),strip.Color(brightness,0,brightness));

// strip.setPixelColor(max(sprite-j, 0),strip.Color(brightness,0,brightness));

// }

//strip.setPixelColor(min(sprite+1, stripN),strip.Color(20,0,20));

//strip.setPixelColor(max(sprite-1, 0),strip.Color(20,0,20));

// for (int i = 0;i<=stripN;i++){

// stripR[i] = stripR[i] - .05; if (stripR[i] <=0) {stripR[i] = 0;}

// stripG[i] = stripG[i] - .05; if (stripG[i] <=0) {stripG[i] = 0;}

// stripB[i] = stripB[i] - .05; if (stripB[i] <=0) {stripB[i] = 0;}

// strip.setPixelColor(i,strip.Color(stripR[i] ,stripG[i],stripB[i]));

// }

//colorWipe(strip.Color(255, 0, 0), 10); // Green

// strip.setPixelColor(5,strip.Color(255,255,255));

//strip.show();

//

// theaterChase(strip.Color(127, 127, 127), 50); // White

// theaterChase(strip.Color(127, 0, 0), 50); // Red

// theaterChase(strip.Color( 0, 0, 127), 50); // Blue

//

// rainbow(20);

// delay(3000);

//rainbowCycle(0);

// theaterChaseRainbow(5);

}

// Fill the dots one after the other with a color

void colorWipe(uint32_t c, uint8_t wait) {

for(uint16_t i=0; i<strip.numPixels(); i++) {

strip.setPixelColor(i, c);

strip.show();

delay(wait);

}

}

void rainbow(uint8_t wait) {

uint16_t i, j;

for(j=0; j<256; j++) {

for(i=0; i<strip.numPixels(); i++) {

strip.setPixelColor(i, Wheel((i+j) & 255));

}

strip.show();

delay(wait);

}

}

// Slightly different, this makes the rainbow equally distributed throughout

void rainbowCycle(uint8_t wait) {

uint16_t i, j;

for(j=0; j<256*5; j++) { // 5 cycles of all colors on wheel

for(i=0; i< strip.numPixels(); i++) {

strip.setPixelColor(i, Wheel(((i * 256 / strip.numPixels()) + j) & 255));

}

strip.show();

delay(wait);

}

}

//Theatre-style crawling lights.

void theaterChase(uint32_t c, uint8_t wait) {

for (int j=0; j<10; j++) { //do 10 cycles of chasing

for (int q=0; q < 3; q++) {

for (int i=0; i < strip.numPixels(); i=i+3) {

strip.setPixelColor(i+q, c); //turn every third pixel on

}

strip.show();

delay(wait);

for (int i=0; i < strip.numPixels(); i=i+3) {

strip.setPixelColor(i+q, 0); //turn every third pixel off

}

}

}

}

//Theatre-style crawling lights with rainbow effect

void theaterChaseRainbow(uint8_t wait) {

for (int j=0; j < 256; j++) { // cycle all 256 colors in the wheel

for (int q=0; q < 3; q++) {

for (int i=0; i < strip.numPixels(); i=i+3) {

strip.setPixelColor(i+q, Wheel( (i+j) % 255)); //turn every third pixel on

}

strip.show();

delay(wait);

for (int i=0; i < strip.numPixels(); i=i+3) {

strip.setPixelColor(i+q, 0); //turn every third pixel off

}

}

}

}

// Input a value 0 to 255 to get a color value.

// The colours are a transition r - g - b - back to r.

uint32_t Wheel(byte WheelPos) {

if(WheelPos < 85) {

return strip.Color(WheelPos * 3, 255 - WheelPos * 3, 0);

} else if(WheelPos < 170) {

WheelPos -= 85;

return strip.Color(255 - WheelPos * 3, 0, WheelPos * 3);

} else {

WheelPos -= 170;

return strip.Color(0, WheelPos * 3, 255 - WheelPos * 3);

}

}

// range finder

// Make sure you add the above line to your code -- #include <wire.h>

//

//The line in the setup() routine needs to be added to the setup() in your program. So add Wire.begin(); into your setup();

// Then copy and paste the whole takereading() function into your code\

// to get a reading, simply take the variable you want the reading to be assigned to, and write something like

// sensorReading = takereading();

// this will make sensorReading equal to whatever the sensor returns. Then this variable can be used

// in any way you want to calculate the light patterns, etc.

// #include <Wire.h>

int takereading() {

//Serial.println("readin1");

int reading = 0;

Wire.beginTransmission(112);//Serial.println("readin2");

Wire.send(0x00);//Serial.println("readin3");

Wire.send(0x50);//Serial.println("readin4");

Wire.endTransmission();//Serial.println("readin5");

//Serial.println("readin6");

delay(70);

Wire.beginTransmission(112);

Wire.send(0x02);

Wire.endTransmission();

Wire.requestFrom(112, 2);

if (2 <= Wire.available())

{

reading = Wire.receive();

reading = reading << 8;

reading |= Wire.receive();

}

return reading;

}

//legacy range finder

float read_sdm_io_range()

{

unsigned char pin = 0;

unsigned int time_flag = 0;

digitalWrite(TrigPin, HIGH);

delayMicroseconds(2);

digitalWrite(TrigPin, LOW);

delayMicroseconds(50);

digitalWrite(TrigPin, HIGH);

tStartPing = micros();

timeout = 0;

pin = digitalRead(EchoPin);

while(pin)

{

pin = digitalRead(EchoPin);

time_flag++;

if(time_flag > SDM_IO_TIMEOUT)

{

timeout = 1;

break;

}

}

ultrasoundDuration = micros() - tStartPing;

//Serial.print(ultrasoundDuration);

//Serial.print(" us, ");

//Serial.print(ultrasoundDuration*0.017, DEC); // result in cm

//Serial.print(" cm");

//Serial.println();

if (timeout)

return 999;

else

return ultrasoundDuration * 0.017; // result in cm

}