Glut Rooster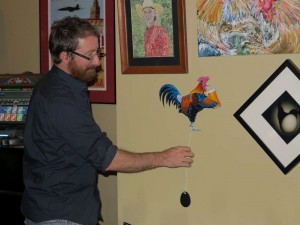 Electric Rooster was a a lot of fun so here's another instalment of the Rooster Project.
Meet Glut Rooster. When you pull his string he drinks his beer and a bell chimes.
The bell is a small piece of brass tubing suspended by two pieces of thread. The thread is positioned to the nodes in the vibration of the brass so it makes a cute little ring that rings on for some time.
The hammer is a ballast connected to a spring made from music wire. A little tricky to get working but it works great.
This was a joint effort with Mark Stephenson.
2015 Update
Glut Rooster had the privileged of being one of the house roosters at Atomic Rooster for a few years. It was a tough job as he eventually lost his feet in a fall, lost four of his tail feathers an had his head cracked off. Other damage included paint damage and the loss of his bell and related mechanical parts.
As you can see he'd been in the lab for a few days and its back in working order. He's off to a new home as of tomorrow. As you can see in the pictures he's making new friends from the Vinyl Clock project.
Here's a video of his original bell. I spent a lot of time getting that right. It's a shame when it came off nobody thought to grab it and keep it with the project. Perhaps if he has to come back to the shop for repair again I'll be able to get one working as well as the one he had.