Spool Knitting
I can't remember if it was my mom or dad that showed me spool knitting. I think it was my mom but my dad made the spool. I might have been seven or eight years old. Perhaps even younger.
Here's a spool I made! This is fun! If anybody wants one let me know.
Here are some other configurations including viking wire knitting using 30 gauge enameled copper wire.
Another installment.
Download the 5/7 peg and 6/8 peg:
Draw Plate for Viking Knitting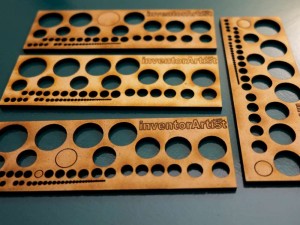 I am making a draw plate for viking knitting.
I wasn't sure what size to make the holes so I did 1/32″ to 1/2″ in 1/32″ increments. I also did a series of holes that start with a small hole and then a series of holes 90% smaller.
I labeled them all but the engraving is pretty small so the next release will have bigger text… I hadn't realized how small of a plate I was making so I made the text too small…
What holes make sense?
Feel free to download it: drawplate001_4p2x0p9
Knitting Ball Winder
My friend has this cool spinny thing that converts a ball of yarn into little balls (cakes) where you can pull the yarn out from the center. That's easier since the ball doesn't roll around yarn and kittens don't get involved. She wants me to make a smaller spindle for it so she can make smaller cakes. Here's the part I'm making. The white one below came out really nice but it didn't fit (I measured wrong). Then the 3d printer broke down. So I decided to use a printrBot. I made a black and a red one. The red one is press fit and the black one is twist fit.
Here's a video on how these things work:
How Knitting Works