Motorcycles: Yea or Nay
I've had a few motorcycles (currently a Honda Shadow VLX). Want to go for a spin? Hop on:
Motorcycles have their perks. You can park anywhere, hop curbs and have superior agility in an urban environment. My VLX can get 75mpg in the city (two-passengers light driving) and at the other end 50mpg highway (100mph no passenger). The VLX is comfortable for rider and passenger since it's low and easy to handle.
This type of motorcycle originated from Harley Davidson. They sold motorcycles to the defense industry and when tooling up to sell to the general public there wasn't enough time to redesign the frame to accommodate a bigger engine. So they simply stuck two engines together to form their famous rough running 45 degree v-twin. The noisy rough running engines were popular but eventually the Japanese started to steal Harley's market with smoother zoomy Yamaha Virago 90 degree twin. Their engine packaging was tall and bulky but people were open to a bit of Japanese fineness. But Honda brought mastery to cruiser design with their compact 52 degree v-twin using an offset dual pin crankshaft (first of its kind) which permitted a lower and more comfortable bike. Also other Honda goodness like reduced emissions through dual plugs and better performance and reliability.
Here's some more footage to give you an idea of this genre of motorcycle.
So I'm pretty happy with the bike but I have been thinking of getting rid of it and getting out of motorcycles. I meant to do it last summer but didn't get around to it. The bike needs a set of tires and chain/sprockets so it's a good time to make the call to sell or prepare the bike for summer. I'm getting a bit concerned about the extra level of risk with bikes. I'm a safe rider as I've seen how these things can mess up your life if you're not careful. There might be some wisdom in quitting while I'm ahead.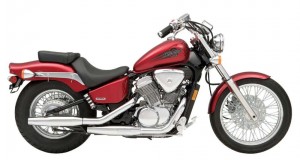 The bike I had before this was a Yamaha XS Special. It was owned by a women who hopped it up to make it into a cafe racer and later sold it. I got the bike from a guy who's wife gave him one weekend to sell it so needless to say it was a steal. Plus he delivered it. It was an awesome bike. When I decided to get a cruiser, I advertised it on the internet and it was purchased sight unseen by a collector who wanted to work it into a more serious cafe racer. Here's a video on the cafe racing culture to get an idea of what a hopped up XS Special is like. I think this genre came forward with movies like Marlin Brando Wild One (which is lamer than lame). 🙂
Bikes have interested me since childhood when my parents bought my brother Brett and I a cool Honda CT70 (aged 8 and 9 or so). What an awesome and important part of our childhood. It gave us superior mobility and access to a much larger world to explore. Here's a video of some older kids fooling around with the CT70 more recently. They're a little lame (although watching the video to the end gave me various bursts of laughter). But be assured these machines were awesome for the pre-teen and tween time of life.
In fact the CT70 legend lives on with a huge cult following across Europe and the world. Today they're known as DAX (the next video below).