Mystery Challenge Feb15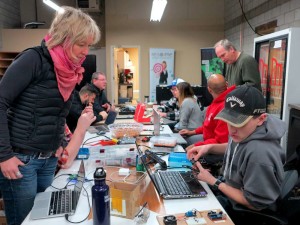 Mystery challenge is back!
It's not too late to join in! You're welcome to contact us or come to one of the events below to pick up a package ($5)! You don't have to be in Ottawa either!
Are you a problem solver? Do you like learning? Welcome to the Mystery Challenge!
For this challenge you will receive a mystery component. The contest is to come up with the coolest or most useful project or device that uses the component. You will have to the end of the month work on your project and can bring it to the party at the end of the month. Working or not.
Keep your eyes peeled for our Arduino, Electronic and CNC fabrication workshops!
Questions or to make an alternate arrangement to get your mystery component: darcy@inventorArtist.com.
Events
Watch this space for more events! Make suggestions to darcy@inventorArtist.com!
Jan 31st, 12:30-1:30pm Mystery Challenge! Sign up to the mystery challenge!
Feb 7th, 11am-noon CNC Primer. Tickets
Feb 7th, 1pm -3pm Hack613 Meetup Free! Just come!
Feb 14th, 11:30am – 1pm "I Love You" Glider Tickets
Feb 14th, 1pm Regular Hack613 meetup!
Feb 21st, 1pm Regular Hack613 meetup!
Feb 28th, 11am – 1pm Dinky Motor Build! Tickets
Feb 28th, 1pm – 2pm Regular Hack613 meetup!
Feb 28th, 2pm – 3pm Mystery Challenge Party and Prizes! Free Tickets!
Jan 31st Pictures
Related
Previous Mystery Challenge
Some other mystery challenge.