Moving Canvas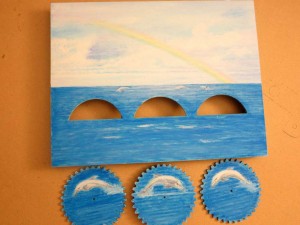 Kinetic work such as Big Oil Rooster have been really popular but have high complexity since an energy source must be incorporated. It's not just making it work it's making it run reliably. There is more time involved than meets the eye. Even when the piece appears complete there will be testing and for each modification there will be regression testing. Testing and regression testing has surpassed 120h for some projects since each run must be 20-40h.
So here's a concept that's much simpler. A pull chord! The viewer activates the piece easily without electricity.
Anybody want to try one of these? I'd like to make a batch of different ones.
I made two so far. The first went to Ching who painted a dolphin scene. She's like to sell so please contact me if you're interested.
The second canvas went to Daniel Martelock. It will be interesting to see what he comes up with.
I am also looking for a photographer or artist for this related project which is a bit larger. It's a billboard that can display two images (perhaps three).