Cherries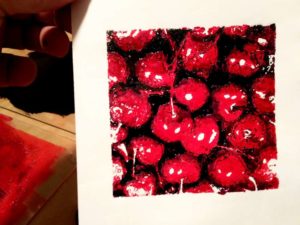 I am working on this five plate block print.
I've had quite a few problems so far.
I used laser to carve the blocks and it warped the acrylic plates. I heated to 325 and squished them between heavy aluminum blocks. Worked fairly well I may try it again.
I don't have all the colors I need, I blended some acrylic paint, screen printing and block printing to get the colors I needed. The green plate for the stems didn't come out but I think it still looks okay. I was lasy and just used green acrylic paint and it didn't transfer the paint.
I need to make up a frame for applying ink to the green plate since it's very sparse and the brayer contacts the cut away area…