CNC 6040 Custom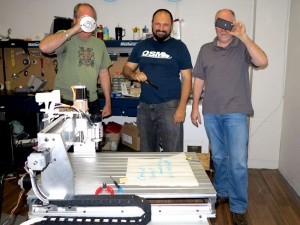 I'm putting together a CNC machine for the CNC613 project.
I ordered a 6040 chassis from Shenzhen, China. That means it has a working area of about 60x40cm. Working height may be around 6 or 7cm.
The machine is almost running and it looks like it will be operational within a day or two.
There is lots to do so I divided the project into four parts. Mechanical, electrical, cart and community.
CNC Mechanical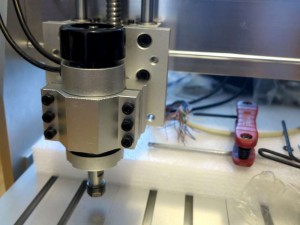 I purchased 400W Brushless Spindle Motor. It included an ER11 chuck, Mach3 PWM speed controller, motor mount and power supply. I drilled and tapped the M6x1mm holes and bolted it on (after attaching the gantry with the supplied bolts).
I also purchased three Nema 23 stepper motors and matching controllers. They have 1/4″ shafts. The ball screws on the chassis are 8mm so I ordered shaft three shaft couplers with those sizes.
Next I designed and made up some Nema 23 Stepper Motor Mounts. The chassis stepper motor mounts have M5 bolts so I got 12 of those bolts.
Up next:
-stepper couplers (in transit)
-3 of the 5 limit switches to be installed.
CNC Electrical
This section covers the computer, CNC controller and wiring.
I got a computer, monitor and keyboard from Andrew Barbour and a mouse from Richard Sloan. Rick Alexanderson gave an optical mouse and a USB Wifi stick.
I cleaned up the Windows XP installation on the computer, added a password and loaded Mach3. That went pretty well.
Next I'm going to make a cnc controller box. Above right you can see the two power supplies (one for stepper controllers and one for the spindle) and the cnc controllers. I will make a box that bolts these six components to it's floor.
The bill of materials is:
-parallel cable (check)
-parallel breakout board (check)
-3 steppers and controllers (check)
-power supply for steppers (check)
-5 limit switches (check)
-spindle, controller and power supply (check)
-120 plug for controller
-those little blade connectors that go to the power supply (I may have some)
-wire to extend the spindle wiring (it's wired for a 3040)
-wire to route the steppers through the drag chains.
-shrink tubing
-hardboard to make a cabinet
-glue
-screws and bolts to mount the stuff in the cabinet
-perhaps a fan for the cabinet and some way to power it
-perhaps some fuses and fuse holders (I have assorted stuff)
-perhaps something where the wires exit the cabinet to prevent wear. Perhaps jacks or grommets.
Tooling:
-soldering stuff
-multimeter
-screw driver for breakout block connectors
-screw drivers for whatever fasteners go in cabinet
-wire cleaners or side trimmer
CNC Cart
A cnc cart was designed and assembled.
CNC Vacuum System
I guess we need dust collection for CNC so here's a bill of materials. For the mean time I have this simplified vacuum system.
small cheap vacuum
wood to make vacuum box if it's a loud vacuum.
2 or 3 gallon plastic container with lid
hardboard to make the nozzles
extra hose to reach the machine
CNC Community
I'll start with the software toolchain at modlab next Wednesday. I'll run the same walkthrough once per week as long as there are people that want/need it.
I'll try and get Guy to demo his machine at an Arduino meetup.
I've almost got Adrian convinced to do a walkthrough of his usb 3040.
If we can get these two demos then that keeps everybody partying even before we get the 6040 up and running.
The regular software toolchain can run and as soon as the machine is operational I'll start doing orientation on machine operation and fixturing.
Endmills are another thing.
At the software toolchain walkthroughs I'm going to go over cutters, what to order and where so people can get a few cutters on order. People can do a bulk buy or whatever they feel like.