Isoscel-Ease the Drawing Robot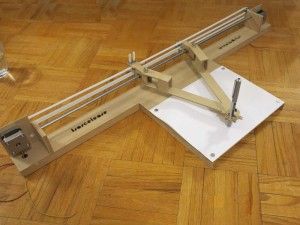 I learned a bit from making the Art-O-Matic swirling-drawing robot. The new Isoscel-Ease drawing robot uses triangular geometry rather than scissor geometry (other drawing robots).
The two arms holding the pen are the same length forming an isosceles triangle. So you can probably figure out why I called this machine Isoscel-Ease.
The arms are belt driven using a linear rail rather than rotary gears like Art-O-Matic. The scissor-rotary system of the Art-O-Matic could not follow all paths on the paper. But the Isoscel-Ease has more freedom to move in any direction at any point on the paper.
The machine came together very well. The linear rail is in compression and the belts and base are in tension so the rigidity seems pretty good. I did add a skirt to the base to increase stiffness.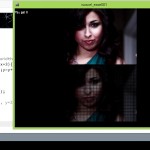 I decided to start to work on portraits right away so I'm already working in processing.org to do image analysis in order to create pen paths for Isoscel-Ease. I worked on it a few hours last weekend and got pretty far. I should be trying my first portrait pretty soon!
This thing will be fairly portable so I can tote it around and work on the software .
Well, not quite as portable as Art-O-Matic but it will do. 🙂