Watercolor Christmas Cards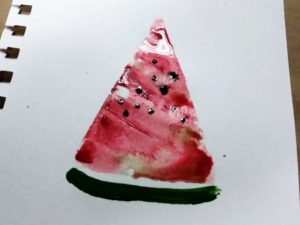 I was at a social the other day and a watercolor Christmas card was being passed around. I loved it so decided to give it a try. We made some laser templates and used them add water to the paper using a mister.
This proved to be much faster than my Christmas cards and Valentines cards from shapes. Also there is an even faster technique using record stencils and spray paint.
Watercolor is a blast. I've been doing it with kids lately but I hadn't really taken the time to experiment myself. I had no idea how much fun it is and the way it can interact with water and material.
Yes, that's a watermelon on the right. It was a failed Christmas tree.
Another Round of Watercolor Cards
I went through the cards rather quickly so I decided to make another batch. I added some acrylic ink and fountain pen ink rather than just watercolor. All three have very different characteristics.
Kid Version
I did round three with kids. A five year old and a two year old. Kids like templates. And mess. 🙂
We used acrylic paint. I had some cheap stuff I grabbed the last time I was at Michaels craft store.
How to Make an Envelope
It's pretty straight forward to make envelopes. Cut an 8.5×11″ sheet to 8.5″ square. Fold and glue it together then close it with a sticker/seal.
This works great for cards that were cut from 8.5×11″ (2 cards per sheet) and a bit larger.
Related:
Published on: Dec 22, 2013 @ 12:30