Bamboo Parol Lantern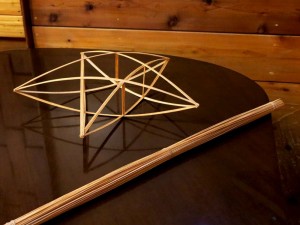 Here's a 24″ bamboo Parol Lantern Frame.
This is made from 3/32″ bamboo from bamboo blinds!
I'm very pleased as it is very rigid.
DIY Bamboo Parol Lantern
Here's how to make one for yourself!
The 3/32″ bamboo is thin but you can make robust strips using four pieces. I made five of these composite strips.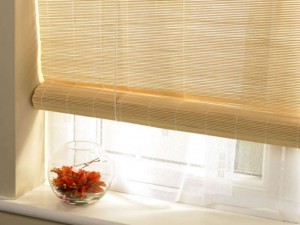 Temporarily join the pieces together using masking tape (see pictures of this process below). The key here is to hold the strips of bamboo by their tip so they will self organize their curvature. They'll all be warped downward in the same direction. Add the first tape while balancing it on your fingers. Add two pieces of tape to each strip and cut to length. I used 24″ (around 60cm).
Arrange them into a rough star shape and clip the corners together with "inside-out clothespins". Don't forget to have the warp of the five strips all facing the same way. In the pictorial I have faced the curvature downward. Once you are satisfied with the shape of the star glue the five belly points with hot glue. More of these clothespins help a lot here. Once the belly is secure you can glue the five corners.
Make up five more strips and glue them on top one by one using the clothespins. Glue the corners then the belly.
Once you are satisfied with your two layer star separate the belly to decide what length of standoff to make. Make six standoffs and glue in place.
New Parol Technique
Bamboo parol lanterns are fun to make but take a bit of time. Here's a much easier way I devised. I can make them in any size plus they can have features to easily attach lighting.
Related
23″ Wood snap together parol kit!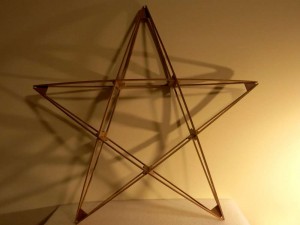 You can purchase 14″ cardboard parol kits that work very well. These frames assemble quickly and easily and decorate easily since they are perfectly even.
The source of the bamboo above is roll-up-blinds. They are made from this material and are tied together with string for flexibility.
Published on: Dec 14, 2014