Parol Lantern Kits 2014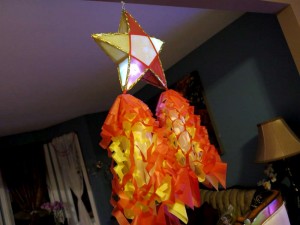 It's time to make Parol Lanterns for Christmas!
For "made-to-order" kits please email (darcy@inventorArtist.com) with
how many
and your address.
You'll receive a link to pay! They're $10/kit. Order.
The kits are 14″ Parols and come with everything you need except glue. We recommend some craft glue and a glue stick. We also recommend having extra tissue of different colors in case you want to be more creative than the random colors the kits have. Or if you wish to make more tails.
Update! Wooden Snap Together Parol Kits!
Why a New Parol Design?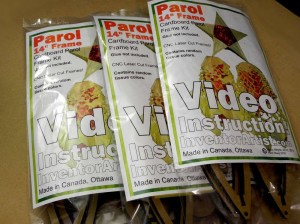 When Hurricane Haiyan came I made Parol kits to raise the spirits of those who had friends and family in the Philippines (and show sovereignty with their community). I also participated in fund raisers for the disaster.  I donated 100% of proceeds.
The unique Parol designs were well received by the community. They don't require green bamboo which is difficult to find in Canada. They're made from cardboard.
So this is my second year making Parols. One thing that's clear is they're fun to make and I'm hooked.
I hope to see more people making them. Here are the steps!
Party
Bring them to any party to make. That's more fun and efficient and what else are you going to get done at at party? 🙂
Slip Together Parol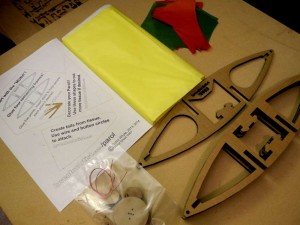 My design was well received but I've made some improvements. A you can see at the right they are made from five frames.
There is one frame that is marked with "muna" and four others. Always start with muna. Snap in the other four frames and presto.
There are some tabs to help hold the corers and some disks for mounting the star trails.
Here's what it looks like going together.
The design is new so please comment with your ideas and suggestions!
Glue the Frame
You can add glue as you go but in this pictorial I added it at the end using a ketchup/icing dispenser. The best way is to use a toothpick to transfer glue to the parol.
Tissue
It's great to have extra tissue and other items for decorating your parol! Use enclosed templates to make more tissue panels.
Use a glue stick to the tissue panels on starting with the triangles for the points then the "curved triangles" for the edges and the pentagons for the belly and back.
Make Tails
After making your tails you can then attach them using the wire and the circle buttons.
Hanging Your Parol
Use the remaining wire to create a loop.
Parol Lighting
This design accommodates an optional tray to which you can secure whatever lighting system you want. In this case I've made a simple lighting system using a tiny microcontroller and some LED lights. If you enjoy electronics here are some ideas for Parol Lighting.
2013 Parols
Here are pictures and video from last year.
Parol Party Ideas
My friend Cindy gave me this great idea for children.
I think this would be a great addition to Parol making parties as children can stick tissue on these frames as well as the kid version of the Parol.
Time to start coming up with ideas so I can come up with the frames.
Please submit links to anything you'd like to see!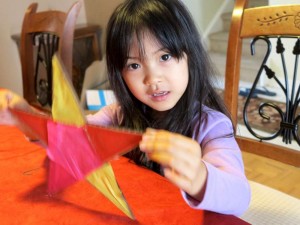 Related
Published on: Oct 3, 2014 @ 23:54