Parol Contest 2014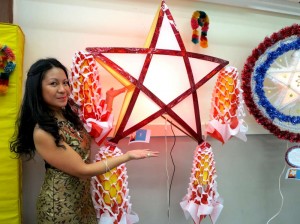 I learned about Christmas Parol Lanterns last year and love making them. This year I was invited to enter a Parol contest. Order Parol Kits!
What came forward was the Laser Parol. It's a 36″ traditionally shaped Parol lantern (shown right with Marilou of Twenty York Street) I designed the frame using computer aided design and the parts were cut out using CNC laser. This formed a light but rigid frame very much like the traditional bamboo frame.
The lighting system was constructed from 150 LEDs and a micro controller (details below). This system is capable of being configured for remote control and having sensors so the Parol can react to motion, sound, music and so forth.
Below is a bit of video. I'll try and make more video…
I created a team to make it a communal project (and perhaps coaxing people to make their own submissions once they take interest). It turned out to be really fun and productive in terms of ideas but I don't think I started the project early enough to give it time to gel so I wound up carrying out the bulk of the work myself.
But it was very worth while because the drive to do this came from the great ideas from the team. And I used Dave's power supply and LED strip (that was most helpful because the time-frames didn't allow a parts order).
Parol Lantern Concept
So here's how the frame was constructed. I designed it much like the last years parol lantern except I divided each of the five segments onto two pieces. A 2/3 segment and a 1/3 segment. The five long segments were arranged like the diagram below then the 1/3 tips were added. This allowed it to be cut out on a smaller laser cutter and the structure is sufficiently rigid. I'm also showing the concept along side a model to get the scale of it.
Here's a video on how to make the Parol frame. I did a further step to divide each frame into to parts that's not shown here.
Frame Construction
We used double-wall B-Flute corrugated fiberboard (aka really heavy cardboard). It is 1/4″ thick. Any old carpenter of white glue is good. We used carpenter glue.
Parol Lantern Lights
I didn't want to just grab some dollar store fairy lights which have predetermined patterns. I wanted to give the Parol it's own personality.
A 5m segment of WS2812B strips containing 150 LEDs was used. This strip is completely programmable. You can control every LED's color and brightness using a small computer. This one used an Arduino microcontroller.
I hacked together a quick computer program to control the lights to give various quick flashes and soft color changes.
The power supply used was 5V. The lights can draw up to 6 amps but we just used a 4 amp power supply since all the lights are never on at full power at the same time.
Parol Lantern Covering
I used tissue and some cellophane since that's very traditional and is fun and easy. The lantern face was mainly white so the lights could shine through and provide any color we want. For instance it could have different color schemes leading up to Christmas day. Or react to the movement of people or a TV remote control.
I added a bright red border to the front and yellow sides. I was going to use green and red for the sides but last minute yellow was chosen. I decided yellow was a Christmas color since it's a star and yellow seems fair game. Besides, the lights inside were going to be mainly red and green. Not only that red and green make yellow. So that makes yellow a Christmas color. Check out how colors of light mix.
Contest Details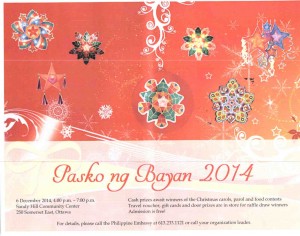 There are three judges and here are the contest parameters.
artistry 25%
originality 25%
crafstmanship 25%
relevance to tradition 25%
One thing I noticed other contestants had was a description of their Parol posted underneath with some spin. I hadn't realized that the judges were not going to talk to me so they didn't discover some of the very modern and "maker movement" elements of this project.
Related
Last Year's Parol Lanterns (Parol Lantern Gallery)
Dave's Christmas Light Project.
I think we'll be going much simpler than this!