Philippines Christmas Parol Lantern Kits/Templates
What's a Parol Lantern?
Parol Lanterns are a beloved Philippines Christmas tradition.
Get the the latest Parol Lantern kit by emailing darcy@inventorArtist.com!
The New Open Source Parol
Want to make your own?
Here's an open source DIY Christmas Parol. Download templates below or contact me for a kit at darcy@inventoArtist.com.
I had a lot of fun making them. You can see how I designed these templates below. Check out the Parol Gallery.
I thought it was a great opportunity to experiment with lighting systems with Arduino microcontroller and other mechanisms.
It has been very well received by the Filipino Community and I was invited by the Embassy of the Republic of the Philippines to show them at their recent fund raiser. Hundreds of Filipinos and other people of Ottawa attended and over $10,000 was raised for hurricane relief. I was very proud to donate 100% of the proceeds from my Parol Lantern Kit sales to the cause.
I also brought them to Hub Ottawa to the Christmas Market to show off along side my Squirrel rubber band plane project.
Parol Lantern Assembly Instructions
Watch this video then follow the directions below:
Step 1) Download the templates (below) and cut the parts out with a laser or CNC machine.
You can also print the templates on paper, tack them to cardboard and cut them out. To save time you can only cut the outline. This will also make the lantern stronger.
You will need five frames. One will have grooves on the opposite side. Four will have grooves on the same side.
You can contact me for some pre-cut frames.
Step 2) See diagram to the left for step 2 and 3.
If your frames fit tightly or are tricky to fit together, trim them with scissors as shown.
It's okay if they're slightly loose as you will be gluing them.
Step 3) Start with the frame that has slots on the opposite side.
Apply glue as shown in the diagram. Be sure to apply it to both sides so the glue will be in four places.
Step 4) Glue in a segment that has it's slots on the same side.
Be sure to add glue to the second segment as in step 3.
The glue is in four places right?
Step 5) Glue the third segment.
Glue the fourth segment. The fourth segment is glued just like the third but you have to spread the other segments apart to make sure all the tips meet to form the points of a star.
If gluing this segment seems tricky, please watch the video above again.
Glue the fifth segment.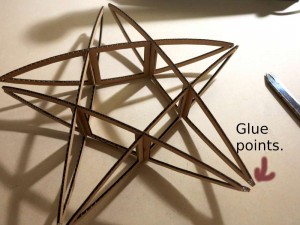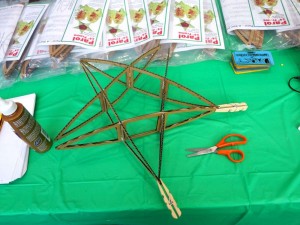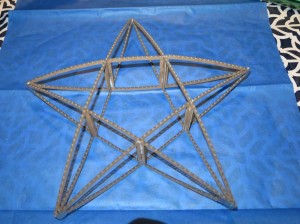 Step 6) Your Frame should look like a star except the points are not glued together yet.
Glue the tips together.
Use ties, tape or clothespins to hold in place while glue dries!
Once the glue is dry remove the clothespins or whatever you were using to hold the tips in place.
You are now read for decorating your Parol Lantern!
Decorating Your Parol Lantern
Have fun decorating your Parol with tissue and other materials.
Covering: You can cut the tissue (or whatever material) with a template or just stick on and trim later. We used tissue paper and cellophane.
Parol Tail
It's a good idea to add a piece of tape at the point of attachment. Then you can just sew it on with a needle and thread.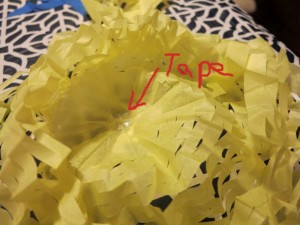 Please send in pictures of your Parol and we will make a gallery!
Download Parol Lantern Templates
10″ (25cm) Kids Parol
This one is simplified.
It has a template for pre-cutting the tissue. I found with younger kids you just pre-cut the tissue with the templates and show them how to glue them onto the panels with a glue stick.
Download the 10″ Parol Template: kid_10Parol_V1_10p1x10p0
10″ (25cm) Parol Template Download
Here is the 10″ Parol Lantern. I made a number of improvements over the Prototype above including tapered grooves and simplified construction.
You need 4 of these: ten003Even9p7x2p9
You need 1 of these: ten003Odd9p7x2p9
Optional tissue cutting templates: ten003TissueTemplate16p8x4p3
14″ (36cm) Parol Download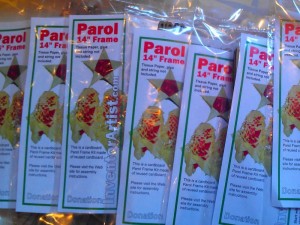 The 10″ one is cute so I made a 14″ design. This one is already available as a kit!
Here is a download for the 14″.
You need 4 of these: Parol014ESingle_13p7x3p5
You need 1 of these: Parol014OSingle_13p7x3p5)
Optional templates for tissue cutting: Parol015_TissueTemplate_17p1x5p7
Here is a slightly thicker version:
You'll need 4 of these: Parol14_EVEN_13p7x3p5_V016
You need 1 of these: Parol14_ODD_13p7x3p5_V016
24″ (60 cm) Parol Download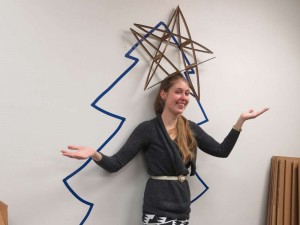 I've not made one of these yet but I can't wait!
You'll need four of these: twentyfour004Even_23p7x4p8
You'll need one of these: twentyfour004Odd_23p6x4p7
Optional tissue template belly: twentyfour004TemplateBelly_9p8x9p3
Optional tissue template arm: twentyfour004TemplateArm_10p2x6p1
Optional tissue template underarm: twentyfour004TemplateUnderArm_18p2x4p9
Here's a version for thicker cardboard:
One of these: twentyfour005odd_23p7x4p8
Four of these: twentyfour005even_23p7x4p7
Designing a Philippines Christmas Parol Lantern
There was no obvious local source of bamboo. Cardboard to the rescue! It works great!
I came up with a few different ways of adding light to your Parol including a method that uses an Arduino micro-controller so you can use your TV remote to change the light patterns.
The Parol Instruction page shows assembly and has template downloads for 10″, 14″ and 24″ (25cm, 36cm and 60cm). There's a kids version too!
How to Make Your Own Parol Design
If you don't want to download one of the Parol templates, you can use CAD software (Computer Assisted Design) to create your own version. Here is a video of how to make these templates in Sketchup. It's a little rough since I didn't rehearse it and was thinking while I was talking and executing.
Related
Here's a simple example of a Parol Lantern.
Another easy project that came forward when I was researching this.