Parol Lantern and Philippines Fund Raiser
I was invited by the Embassy of the Republic of the Philippines to show my Parol Lantern Kits at their fundraiser entitled: Parol – A Star of Hope. A fund raiser for Typhoon Haiyan. Order Parol Kits!
I donated 100 percent of the proceeds from the sale of the lantern kits. I hope everyone makes them and hangs them in their window to share them to show solidarity to the Philippines.
The fund raiser  was a great success raising $10,412.
It was a lot of fun since a lot of my friends were there and I met many new friends. Also lots of entertainment, food and a collection of vendors.
Thanks to Ottawa mayor Jim Watson, the embassy and others for this event.
Here's a post on how I designed the Parol and a link on how to add lighting to your Parol.
Here's a youtube video of news coverage by Vanessa Merjudio.
Here are a few pictures:
Parol – A Star of Hope: Ottawa Philippines Fund Raiser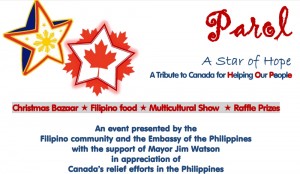 If you want a 14″ Parol Kit, please come to the fund raiser this weekend (Flyer: A Star of Hope)
On Sunday, the 8th of December (2013) from 2:00 to 5:00 p.m
Jean Pigott Place at the Ottawa City Hall
110 Laurier Avenue West
The event is organized by Embassy of the Philippines. Mayor Jim Watson has graciously offered the use of the Jean Pigott Place at the Ottawa City Hall to raise funds in support of Habitat for Humanity's target to build 10,000 core houses in the affected areas.